Get Corporate And Business Clients by enrolling our course
Trusted By 1500+ Students
Special Discount
With FREE 6 Bonus Stuffs
Get it today to Unlock Bonuses Free Stuffs.
What will you learn from this course?
Key features of the course
Why Learn Video Editing Course From Hue N Rig?
Unlock Bonuses FREE Stuffs On Enrollment
Benefits after completing Video Editing Training from Hue N Rig Institute Of Art & Design
100% creative growth
Developing vision with creative perspective.
Clearing job interview
No more wasting time or money seeking other courses.
Growing your own business.
Building your own start-up company
You can be a professional freelancer
Graphic Design Diploma Course Training Software
Software

Training

Certification
Hue N Rig Institute of Art & Design provides classroom training For Master Graphic Designing Course
Offline Classroom Practical Training 
Where students will be provided training by faculty inside a classroom.
It will be a face to face direct training.
Training will be conducted in batch.
You can directly interact with faculty in classroom for any queries.
Lecture types covered for this course will be in
Software Technical 
Theoretical
Practical
Conceptual 
Project Based Training
A professional certificated will be provided to the students after successfully completion of the course.
Students should submit there projects and get it approved from the faculty.
Within 15 Days of submission of project, institute will issue the certificate under name of student enrolled
Video Editing Course Module
(4 Modules with 10+ Projects)
Download Our

FREE APP

Now

h3>
Adobe Premier
Into to Software
Introduction to Premier
Project Settings
Import settings
Understanding premier Workspace
Understanding timeline buttons
Add Still text and graphics
Add Transitions
Export Settings
Re-link offline Media
Previewing, Importing and Organizing your Media
Organise media
Preview pannel
Footage List Pannel
Organizing library with Labels and Folder
Search and Bins
Organizing Your Project
Tools & Techniques
Adding, Inserting and Arranging Clips in a Sequence
Introduction to Source monitor
Rough Cutting & Creating Sub clips
Possible ways to create new sequence
Using Insert Edits, Lifts & Inserts
Overwrite Edits with Track Selection
Performing Insert Edit and Lift & Insert with Modifier Key
Selecting and Moving Contiguous Clips - Track Select Tool
Detecting Duplicate Clips and Duplicate Frames
Synchronizing Audio and Video
Timeline Navigation & Selection Techniques
Editing Techniques & Editing Tools
Zooming Vertically on the Timeline
Re-Trimming Clips from the Timeline in the Source Monitor
Lifts, Extracts and Basic Trims
Performing Replace Edits
Using the Ripple Edit Tool
Refining Transitions in the Trim Monitor: Rolling & Ripple Edit Tools
Changing Relative Clip Content & Position
Manipulating Clip Speed
Freeze and Still Frames
Forcing Speed Changes with Fill-to-Fit
Changing speed with the Rate Stretch Tool
Changing speed with the Speed Duration Panel
Essential Audio Editing
Audio Channels - From Mono to Stereo and Vice Versa
Gain Or Volume - What's the Difference
Volume Adjustment - Audio Clip Mixer and Audio Track Mixer
Using Presets to Enhance Audio
The Graphics Workspace: Texts, Shapes, Lower Thirds and more
Starting the Graphics Workspace
Creating a Graphics Clip
Editing your Graphics
Animating Clips: Keyframes Concept
Animating Graphic Layers within the Clip
Upgrading to Master Graphics Clips
Using the Default Essential Graphics Templates
Adding, Editing and Creating Transition: Video, Audio and stills
Clip Handles: The Key to Smooth Transitions
Refining Transitions in the Effect Controls Panel
The Effects Panel Transitions: Adding, Replacing and Special Properties
Combining Standard Transitions with Video Effects
Custom Transitions with Color Mattes
The Color Correction Process and Workflow
Color Correction - What You Should Never Do
The Color Correction Workflow
Intro to the Lumetri Color Panel and the Lumetri Scopes
Adjusting Tonality using the Lumetri Scope: Waveform
Lumetri Color: How to use Use Curves to Achieve Color Correction
Balancing Color, Removing Color Cast with Lumetri Scope: RGB Parade
How to use the HSL Secondary for Additional Color Correction
Hue & Saturation using the Lumetri Scopes: The Vector scopes
Color Grading
What is Color Grading
Using an Adjustment Layer to Apply Color Grading to Your Project
Color Grading Effects from The Lumetri Presets
Saving or Exporting Your Color Grading Effects
Essential Motion Effects
Built-In Effects: Animating a PiP (Picture In Picture)
Animating with Opacity
Time Remapping - Smoothing Speed with the Speed Monitor
Time Remapping - Speed Animation for Slow Motion Clips
Post-Production Training - Start creating your Demo-Reel now
Workflow: Post-Production for this Documentory
Step One: Download, Import, Preview and Organize your Media
Step Two: Interview Master Clips Color Correcting and Color Grading
Step Three: Creating Interview Subclips
Step Four: Creating Your Montage - Interview
Step Five: Adding B-Roll Clips
Step Six: Refining Your Rough Montag
Step Seven: Refining the Edits
Step Eight: B-Roll Color Correction
Step Nine: B-Roll Color Grading
Step Ten: Adding Music and Adjusting Volumes
Step 11: Adding Graphics - Titles, Lower Thirds, Intro, Outro...
Finally: Export and Share
Chromakeying in Premiere Pro CC
Chromakeying - Concepts and How to work
Using Masks to reduce work
Cleaning Up the Matte
Adding Shadows
Working with a Blue Screen
Adobe Premier Projects
Learn to edit videos for documentary social media etc with premiere pro
Color grading video using LUTs & Looks
Add animated text & lower thirds
Removing Unwanted Noise
Syncing & aligning video & audio
Mastering the Essentials Graphics panel
Working with green screens
Video transitions
Video effects
Organizing your video editing footage like a Pro
Work with transition & video effects presets and templates.
How to create motion graphic
How to work with B-Roll
The ULTIMATE Premiere Pro shortcuts
Key Highlight Of The Course Module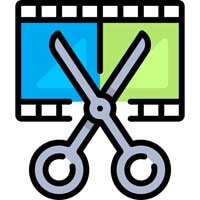 Editing Concepts
Media Management
Premier
Projects Settings
Color Grading
Color Theory
Title Making
Basic Animations
Video Effects
Video Transition
Plugins Management
Audio Edit
Export Media Types
Working On Projects
Tips & Tricks
My name is Sandeep Rahate and I am an interior designing student. My overall experience with my designer course is very satisfying. My "Autocad" and "Photoshop" classes were very good. Online and offline classes experience was also very good. They give attension to each and every student. I am satisfised by the way the teach
Jayesh Unnithan
2020-06-25
I had a great time doing graphic designing course and everyone involved in the Hue&Rig institute has made it a great experience. I look forward doing more courses with you guys in the future and have been recommending you to everyone I know. Thank you
I am a student of hue n rig. I have just completed one month in online classes.all of you are also getting our support in online classes.thanks for your support sir n miss
Hue n rigs have great teachers and guides who are available 24 x7 for any help. I have learnt a great deal from the graphic design ing course, and although in lockdown have succeeded in conducting lectures. It was very homely too n the workspace is ideal. Thanks to the sirs and teachers to taught with dedication n respect.All the best. May you grow to greater heights
V Pratiek Johnson
2020-06-25
I Mr.Pratiek Veluthamannunkal Student of Hue & Rig like to mention online classes are very good during lockdown period as we do not have to carry sanitzer & mask during our travel for lectures at the same time classroom lectures excellent because during lectures our doubts can be cleared then and there. No Doubt our faculty take lectures online and in class the way the student understand . But we miss our faculty as we can't communicate personally. (But on Phone they are available to clear our doubts)
I am a student of Hue N Rig. I have just completed one month.I am having a good experience with them, the trainers are helpful, supportive and friendly,It help us to create new things.thanks for your support.
Enroll now and get certified for Best Video Editing Course in Mumbai by Hue N Rig Institute Of Art & Design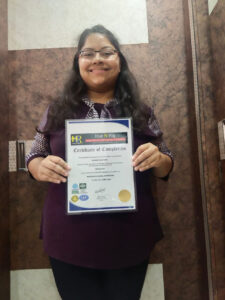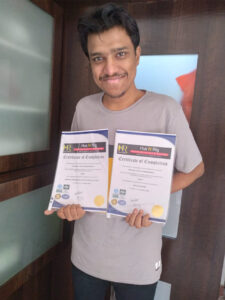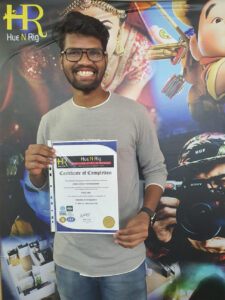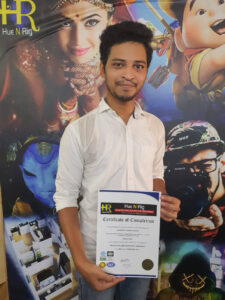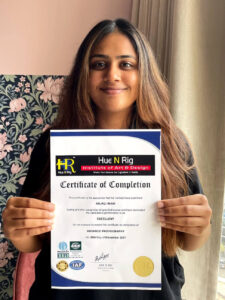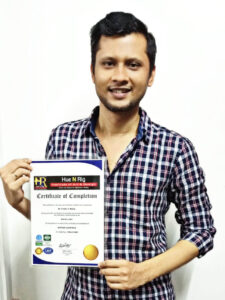 Frequently Asked Questions - FAQs
This is totally an offline classroom training. 
Offline classroom training gives u an extra facility to communicate and interact with faculty on the spot if there is some doubt. Also there is always a plus point of classroom training over recorded lectures
Decide Soon?
Looks like you don't have much time. But at the same time, it shouldn't take you so much time to take the best decision of your lifetime!
Want To Know More About Our
Video Editing Course?
We Are Ready To


explore your creative, build your career, boost your brand, upscale your business

h3>