Social Media Marketing Course
Earn from social media marketing and get new clients by enrolling our course
Trusted By 1500+ Students
Special Discount
With FREE 4 Bonus Stuffs
Get it today to Unlock Bonuses Free Stuffs.
What will you learn from this course?
Key features of the course
Social Media Marketing Course Module
(28 Modules)
Download Our FREE APP Now
Introduction To Digital Marketing
Learn dynamic strategy utilizing online platforms to reach, engage, and convert audiences. It involves various tools like SEO, social media, email marketing, and content creation to promote products, increase brand visibility, and drive measurable results
Digital Marketing Fundamental
Master the essential principles and techniques of digital marketing. Gain a solid foundation to strategize, implement, and measure successful online marketing campaigns for any business.
Instagram Marketing
Unlock the potential of your Instagram profile with our expert tips and strategies. Gain more followers, boost engagement, and build a thriving community. Grow your Instagram presence and achieve your social media goals.
Affiliate Marketing
Explore the world of affiliate marketing and how it can be used to generate passive income. Learn how to set up and manage affiliate programs, choose the right partners, and effectively track and optimize affiliate marketing efforts.
Customer Relationship Management (CRM)
Master the art of Customer Relationship Management (CRM) to build lasting connections, drive sales, and enhance customer satisfaction through effective strategies and cutting-edge CRM tools.
Twitter marketing
Learn to create engaging content within character limits, use relevant hashtags to increase visibility, engage with followers, join trending conversations, and utilize Twitter Ads for targeted campaigns to reach a broader audience.
Research Target Audience
In Research Target Audience learn to define and analyze the specific group of individuals or demographics, research aims to reach, understanding their characteristics and preferences for better insights.

Reels Mastery Course
Unlock the power of Instagram Reels with our comprehensive mastery course. Discover creative techniques, trends, and strategies to captivate audiences, grow your following, and boost brand visibility.
Marketing Automation
Discover automating repetitive marketing tasks, such as email campaigns, lead nurturing, and social media scheduling. Enhancing efficiency, personalization, and customer engagement, to nurture prospects, convert leads, and retain customers.
Creative Designs
Learn how to craft visually appealing content for various social media platforms. This includes graphic design principles, image and video editing techniques, and creating compelling visual narratives to boost your online presence.
Paid Collaboration
Understand how to partner with influencers or content creators to promote products or services. understanding audience targeting, negotiating terms, creating engaging content, and maintaining ethical guidelines for transparency.
Follower Engagement
Discover strategies and techniques to interact effectively with your audience, encourage participation, respond to comments, analyze metrics, and foster meaningful relationships to increase brand loyalty and organic reach.
Social Media Planner
Discover a comprehensive tool that helps strategize, organize, and schedule content across various social platforms. It assists in optimizing engagement, tracking analytics, and enhancing overall social media presence for effective marketing campaigns.
Monitoring Growth
Understand about valuable insights on audience engagement, content performance, demographic trends, and overall brand reach. Analyzing these metrics can help optimize strategies, target the right audience, and enhance marketing effectiveness.
Social Media Marketing
Learn social media platforms such as Facebook, Instagram, Twitter, LinkedIn, and others to engage with your audience and build a strong brand presence.Create compelling content, run successful ad campaigns, and analyze social media metrics.
YouTube Marketing
Learn how to leverage YouTube's immense reach and engagement to create compelling video content, optimize for search, and execute effective advertising campaigns for maximum brand exposure and growth.
FaceBook Marketing
Master the art of Facebook marketing to connect with target audiences, create engaging content, run successful ad campaigns, and achieve business objectives with measurable results.
Pinterest Marketing
Learn to utilize visual content to showcase products and services, create engaging pins, optimize boards for discoverability, employ SEO techniques, track analytics to measure performance, and engage with the active community to drive traffic.

WhatsApp Business Marketing
Discover the power of WhatsApp Business Marketing to reach and engage with target audience effectively. Learn to create engaging content, automate messaging, and leverage WhatsApp's business features for success.
LinkedIn Marketing
Learn creating a compelling company page, optimizing profiles with relevant keywords, engaging with professional content, utilizing sponsored content and ads, building meaningful connections, and measure performance and refine strategies.
Video Marketing
Discover the rise of video content in digital marketing and learn how to create engaging video campaigns. Understand video production, YouTube marketing, and other video platforms to attract and retain audiences effectively.
Management
Develop essential management skills and leadership to effectively plan, organize, and lead teams, driving success and growth across various industries. Unlock your full potential as a dynamic manager.
Retargeting
Learn Targeted advertising strategy that involves showing ads to users who have previously visited a website or engaged with its content. It aims to re-engage potential customers and encourage them to return, increasing conversion rates and brand recall.

Mobile Marketing
Explore the world of mobile marketing and its significance in reaching users on smartphones and tablets. Learn to create mobile-friendly campaigns, leverage mobile apps, and understand location-based marketing.
Lead Generation Business
Discover the art of creating sustainable ventures through innovative strategies. Learn to analyze market trends, identify opportunities, develop winning business models, and implement effective marketing techniques.
AI Tools Bonus
Learn various AI tools and technologies, machine learning, natural language processing, and computer vision. Gain practical insights into AI applications, data analysis, and model deployment, harness AI's potential in diverse real-world scenarios.
Scheduling Content
Learn how to plan and organize posts across various platforms, select optimal posting times, use scheduling tools, and maintain a consistent online presence by understanding your target audience's behavior to engage the target audience effectively.
Handling Clients Social Media Accounts
Discover the art of engaging content creation, strategic posting schedules, community management, targeted advertising, data analysis, and the importance of building strong relationships with the audience to drive brand awareness, growth, and loyalty.
Unlock Bonuses FREE Stuffs On Enrollment
Benefits after completing Social Media Marketing Course Training from Hue N Rig Institute Of Art & Design
Content creation and posting techniques.

Effective social media advertising strategies.

Brand building and online reputation management.

Influencer marketing and collaboration opportunities.

Effective social media campaign planning.

Understanding social media algorithms.

Targeted audience engagement and interaction.

Understanding social media trends and viral content.

Managing social media ad budgets effectively.

Social media ROI measurement and tracking.
Social Media Marketing Course Training
Apps & Portals
Training
Certification
Apps & Portals
Facebook Meta Dashboard
Instagram
YouTube
LinkedIn
Pinterest
WhatsApp
Email 
Content Management Tool
Ms Word
GDrive
Notes 
Research Tools
Planners
Training
Certification
My name is Sandeep Rahate and I am an interior designing student. My overall experience with my designer course is very satisfying. My "Autocad" and "Photoshop" classes were very good. Online and offline classes experience was also very good. They give attension to each and every student. I am satisfised by the way the teach
Jayesh Unnithan
2020-06-25
I had a great time doing graphic designing course and everyone involved in the Hue&Rig institute has made it a great experience. I look forward doing more courses with you guys in the future and have been recommending you to everyone I know. Thank you
I am a student of hue n rig. I have just completed one month in online classes.all of you are also getting our support in online classes.thanks for your support sir n miss
Hue n rigs have great teachers and guides who are available 24 x7 for any help. I have learnt a great deal from the graphic design ing course, and although in lockdown have succeeded in conducting lectures. It was very homely too n the workspace is ideal. Thanks to the sirs and teachers to taught with dedication n respect.All the best. May you grow to greater heights
V Pratiek Johnson
2020-06-25
I Mr.Pratiek Veluthamannunkal Student of Hue & Rig like to mention online classes are very good during lockdown period as we do not have to carry sanitzer & mask during our travel for lectures at the same time classroom lectures excellent because during lectures our doubts can be cleared then and there. No Doubt our faculty take lectures online and in class the way the student understand . But we miss our faculty as we can't communicate personally. (But on Phone they are available to clear our doubts)
I am a student of Hue N Rig. I have just completed one month.I am having a good experience with them, the trainers are helpful, supportive and friendly,It help us to create new things.thanks for your support.
Enroll now and get certified for Best Social Media Marketing Course in Mumbai by Hue N Rig Institute Of Art & Design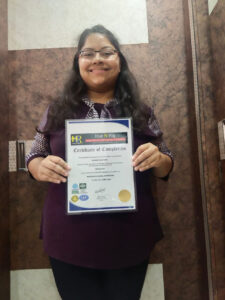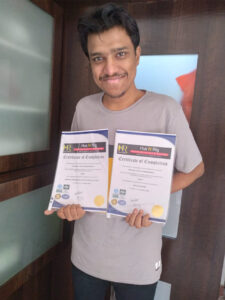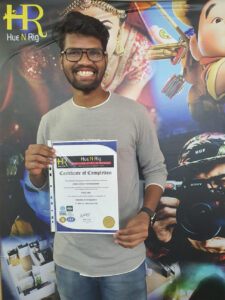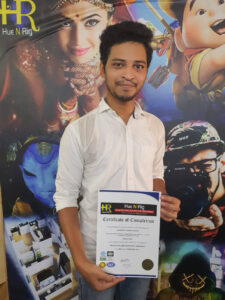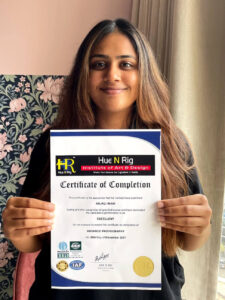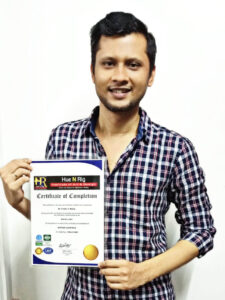 Frequently Asked Questions - FAQs
This is totally an offline classroom training. 
Offline classroom training gives u an extra facility to communicate and interact with faculty on the spot if there is some doubt. Also there is always a plus point of classroom training over recorded lectures
Decide Soon?
Looks like you don't have much time. But at the same time, it shouldn't take you so much time to take the best decision of your lifetime!
Want To Know More About Our
Social Media Marketing Course?
Why Learn Social Media Marketing Course From Hue N Rig?