Social Media Graphic Design Course
Discover The Hidden Facts of Digital World by enrolling our course
Trusted By 1100+ Students
Special Discount
With FREE 3 Bonus Stuffs
Get it today to Unlock Bonuses Free Stuffs.
What will you learn from this course?
Key features of the course
Why Learn Social Media Graphic Design Course From Hue N Rig?
Unlock Bonuses FREE Stuffs On Enrollment
Social Graphic Designing provide Assistance for the planning, development and creation of visual content on social media platforms.
And this course consists of 30+ Lessons and projects that you will master and gain knowledge. This helps you to develop our vision with creative perspective due to which your designing skill will start progressing with time. Don't miss this  golden opportunity and get enroll with this design course now.
Benefits after completing Social Media Graphic Design Course Training from Hue N Rig Institute Of Art & Design
100% creative growth
Developing vision with creative perspective.
Clearing job interview
No more wasting time or money seeking other courses.
Growing your own business.
Building your own start-up company
You can be a professional freelancer
Social Media Graphic Design Course Training Software
Software

Training

Certification
Photoshop (Advance Level)
Illustrator (Advance Level)
Canva Design
Hue N Rig Institute of Art & Design provides classroom training For Master Graphic Designing Course
Offline Classroom Practical Training 
Where students will be provided training by faculty inside a classroom.
It will be a face to face direct training.
Training will be conducted in batch.
You can directly interact with faculty in classroom for any queries.
Lecture types covered for this course will be in
Software Technical 
Theoretical
Practical
Conceptual 
Project Based Training
A professional certificated will be provided to the students after successfully completion of the course.
Students should submit there projects and get it approved from the faculty.
Within 15 Days of submission of project, institute will issue the certificate under name of student enrolled
Social Media Graphic Design Course Module
(10 Modules with 30+ Projects)
Download Our

FREE APP

Now

h3>
Photoshop
Introduction to Photoshop
User interface
Document settings
Files basic
Layer management
Selection tools
Crop and slice
Retouching
Drawing in free hand
Pen tool
Type
Drawing in shapes
Quick mask
Clipping mask
Adjustment layer
Color modes
Transforms
Align & distribute
Effects
Select modify
Special tools
Integrating raster & vector
Exporting
Photoshop Projects
Facebook cover page design
Instagram post templates
Email templates
WhatsApp creative
Web graphics
Web banners
Brochure pdf creative
Vectors post for Facebook
Vectors post for Instagram
You tube cover page
You tube thumbnails
Product photo edit for Facebook shop
Before after image making for social media posting
Background Cutting
Adding Typography
Collage Making
Illustrator
Introduction to Illustrator
User interface
Document settings
Files basic
Layer management
Page and art board
Selection tool
Drawing tool
Basic geometry
Pathfinder
Transformation tool
Distort
Types
Color
Mesh tool
Bitmap tracing and live paint
Distort & transform
Stylize
Gradient panels
Graphic styles panel
Align panel
Brush panels
Swatches panels
Export
Illustrator Projects
Facebook page post
Facebook cover page design
Instagram post design
You tube cover page
You tube thumbnails
Before after image making
Email templates
WhatsApp creative
Social media related artwork
Web graphics
Web banners
Blog Post creative design
Canva Design
Dashboard introduction
Creating different size artboard
Understanding section and panels
Modifying tool settings
Photo import and modify
Frame imposing
ClipArt's library
Color modification
Preview
Downloading your work
Working with text
Photo backgrounds
Shapes
Illustrations, icons and lines
Finding stock photos for free
Different Layouts
Adding pages to a design
Paid elements within Canva
Pro Features
Brand Kit
Magic Resize
Paid Elements
Folders for Elements
Background Remover
Teams, Exporting and Scheduling
Typography and font pairing
Typography 2
Using icons effectively
Organizing the dashboard
Sharing designs
Adding links
Upgrading to Canva for Work
Brand colours
Custom filter codes
Colour codes
Shortcuts
Adding shadows to text
Text masking
Complimentary color scheme
Analogous color scheme
Monochromatic color scheme
Canva Design Projects
Album cover
YouTube thumbnail
YouTube channel art
Twitter header
Facebook post
Facebook cover
eBook cover
Documents
Data and charts
Instagram Post
WhatsApp Post creatives
Menu cards
Festival post
Blog post creative
Email creatives
My name is Sandeep Rahate and I am an interior designing student. My overall experience with my designer course is very satisfying. My "Autocad" and "Photoshop" classes were very good. Online and offline classes experience was also very good. They give attension to each and every student. I am satisfised by the way the teach
Jayesh Unnithan
2020-06-25
I had a great time doing graphic designing course and everyone involved in the Hue&Rig institute has made it a great experience. I look forward doing more courses with you guys in the future and have been recommending you to everyone I know. Thank you
I am a student of hue n rig. I have just completed one month in online classes.all of you are also getting our support in online classes.thanks for your support sir n miss
Hue n rigs have great teachers and guides who are available 24 x7 for any help. I have learnt a great deal from the graphic design ing course, and although in lockdown have succeeded in conducting lectures. It was very homely too n the workspace is ideal. Thanks to the sirs and teachers to taught with dedication n respect.All the best. May you grow to greater heights
V Pratiek Johnson
2020-06-25
I Mr.Pratiek Veluthamannunkal Student of Hue & Rig like to mention online classes are very good during lockdown period as we do not have to carry sanitzer & mask during our travel for lectures at the same time classroom lectures excellent because during lectures our doubts can be cleared then and there. No Doubt our faculty take lectures online and in class the way the student understand . But we miss our faculty as we can't communicate personally. (But on Phone they are available to clear our doubts)
I am a student of Hue N Rig. I have just completed one month.I am having a good experience with them, the trainers are helpful, supportive and friendly,It help us to create new things.thanks for your support.
Enroll now and get certified for Best Social Media Graphic Design Course in Mumbai by Hue N Rig Institute Of Art & Design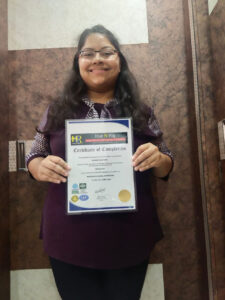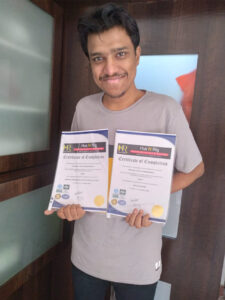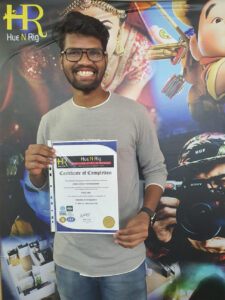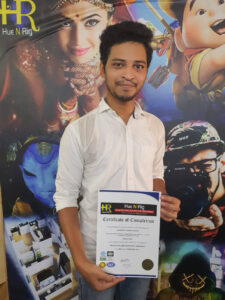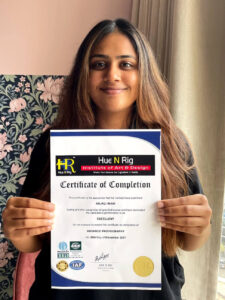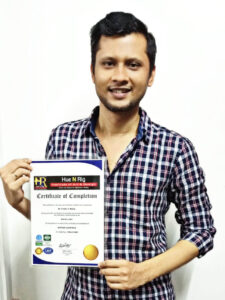 Frequently Asked Questions - FAQs
This is totally an offline classroom training. 
Offline classroom training gives u an extra facility to communicate and interact with faculty on the spot if there is some doubt. Also there is always a plus point of classroom training over recorded lectures
Decide Soon?
Looks like you don't have much time. But at the same time, it shouldn't take you so much time to take the best decision of your lifetime!
Want To Know More About Our
Social Media Graphic Design Course?
We Are Ready To


explore your creative, build your career, boost your brand, upscale your business

h3>