Interior Design Diploma Course
Get Corporate And Business Clients by enrolling our course
Trusted By 2000+ Students
Special Discount
With FREE 8 Bonus Stuffs
Get it today to Unlock Bonuses Free Stuffs.
What will you learn from this course?
Key features of the course
Why Learn Graphic Interior Design Diploma Course Diploma From Hue N Rig?
Unlock Bonuses FREE Stuffs On Enrollment
Benefits after completing Interior Design Diploma Course Training from Hue N Rig Institute Of Art & Design
100% creative growth
Developing vision with creative perspective.
Clearing job interview
No more wasting time or money seeking other courses.
Growing your own business.
Building your own start-up company
You can be a professional freelancer
Interior Design Diploma Course Training Software
Software

Training

Certification
AutoCAD 2D

3Ds Max

Vray

Photoshop (Interior Based)
Hue N Rig Institute of Art & Design provides classroom training For Master Graphic Designing Course
Offline Classroom Practical Training 
Where students will be provided training by faculty inside a classroom.
It will be a face to face direct training.
Training will be conducted in batch.
You can directly interact with faculty in classroom for any queries.
Lecture types covered for this course will be in
Software Technical 
Theoretical
Practical
Conceptual 
Project Based Training
A professional certificated will be provided to the students after successfully completion of the course.
Students should submit there projects and get it approved from the faculty.
Within 15 Days of submission of project, institute will issue the certificate under name of student enrolled
Interior Design Diploma Course Module
(30 Modules) With Projects
Download Our

FREE APP

Now

h3>
AutoCAD
Application menu
New
open
save
import
export
Units
Grid
Snap
Quick access toolbar
Ribbon
View cube
Navigation bar
Zoom in and out
pan, zoon to all
Command box
Layout tab
Status bar
Dimension
Draw
Inquiry
Object Snap
Layer
Orbit
Render
Text
Group
Array
Block
Move
Copy
Scale
Annotation
Hatching
Print & Plot
2D Layout
Furniture Design
Ortho Mode
Cover sheet + general project information
Floor plans
Furniture + Finish plans
Ceiling plans
Elevations + Sections
Details
3Ds Max
Introduction to 3ds Max
Understanding the 3ds Max Interface
Menu bar
Toolbar
Command panel
Viewports
Timeline
Help line
Transforms
Key frame tools
Navigation tools
Undo/Redo
Select By Name
Import Cad Files
Select And Manipulate
Curve Editor
Selection filter
Transform tools
Selection Sets
Material Editor
Linking
Selection Region
Snap tools
Schematic View
Select Objects
Coordinate System
Layer Manager
Rendering tools
Modify
Hierarchy
Motion
Display
Create
Utilities
Orthographic views
Perspective views
Wireframe shows
Smooth shows
Wireframe On Shaded shows
Facets shows
Bounding Box
Middle-click and drag
Roll the middle button to zoom
Hold down the Ctrl key
Quad menus
Selecting Objects
Transforming Objects
Move gizmo
Rotate gizmo
Scale gizmo
Pivots
Affect Pivot Only–
Snapping
Vertex
Edge/Segment
Face
Grid Points
Managing Objects
Using Layers
Using Groups
Linking Objects into Hierarchies
Scene Explorer
Customizing the Interface
Using Scene Explorer
Vray
Introduction to V-Ray
Assign V-Ray
V-Ray Frame Buffer
Rendering Settings
Interactive Production Rendering
Cameras
Placing a Camera
Camera Settings
Natural Lighting
Vray Sun
Vray Light & HDRI
Artificial Lighting
Vray Light
Vray IES
Vray LightMix
Applying the Scene's Materials
Merge Objects in the Scene
Multi/Sub Object Material
Asset Browser
Bump vs. Displacement
Deleting a Material
Glass Material
Metal Material
Material Editor Explained - Compact vs. Slate
Recommended Websites to Download Textures
UVW Map modifier
Creating a Velvet Material
Create different scenarios (materials & accessories) of the scene
HD Render Setups
Portfolio Building
Students will be guided to build the portfolio and get ready for Industry
Defining Units
Defining Measurements
Calculating Area for projects
Residential Projects Design
Plotting Area
Mapping Area
Furniture Design
Space Design
Defining Elements
Defining Elevation
Defining the Hatch
Texturing
Lighting Placements
Rendering Techniques
Day & Night Light Setups
Design 1BHK in 2D & 3D
Design
2BHK in 2D & 3D
Design
3BHK in 2D & 3D
Finishing Output in Editing 
Presenting Final Result
Autocad
Defining units
2d Graph Plotting
Annotation
Print
Photoshop
Image Post Process
Image Color Balancing
Bg Replacement
Image Enhancement
Image Retouch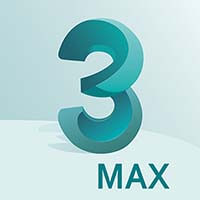 3Ds Max
3d Furniture Modeling
3D Scene setup
Vray
3D Lights
3D Maternial Applications
Applying Textures
3D Camera View
Vray Render Settings
Rendering Process
Working on 3D projects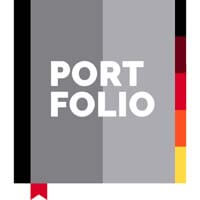 3D Portfolio Submission
Mock interview
My name is Sandeep Rahate and I am an interior designing student. My overall experience with my designer course is very satisfying. My "Autocad" and "Photoshop" classes were very good. Online and offline classes experience was also very good. They give attension to each and every student. I am satisfised by the way the teach
Jayesh Unnithan
2020-06-25
I had a great time doing graphic designing course and everyone involved in the Hue&Rig institute has made it a great experience. I look forward doing more courses with you guys in the future and have been recommending you to everyone I know. Thank you
I am a student of hue n rig. I have just completed one month in online classes.all of you are also getting our support in online classes.thanks for your support sir n miss
Hue n rigs have great teachers and guides who are available 24 x7 for any help. I have learnt a great deal from the graphic design ing course, and although in lockdown have succeeded in conducting lectures. It was very homely too n the workspace is ideal. Thanks to the sirs and teachers to taught with dedication n respect.All the best. May you grow to greater heights
V Pratiek Johnson
2020-06-25
I Mr.Pratiek Veluthamannunkal Student of Hue & Rig like to mention online classes are very good during lockdown period as we do not have to carry sanitzer & mask during our travel for lectures at the same time classroom lectures excellent because during lectures our doubts can be cleared then and there. No Doubt our faculty take lectures online and in class the way the student understand . But we miss our faculty as we can't communicate personally. (But on Phone they are available to clear our doubts)
I am a student of Hue N Rig. I have just completed one month.I am having a good experience with them, the trainers are helpful, supportive and friendly,It help us to create new things.thanks for your support.
Enroll now and get certified for Best Interior Design Diploma Course in Mumbai by Hue N Rig Institute Of Art & Design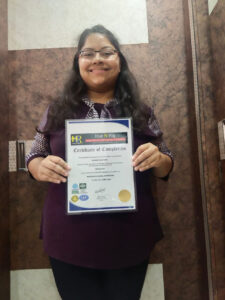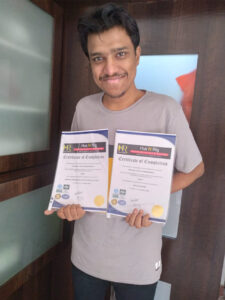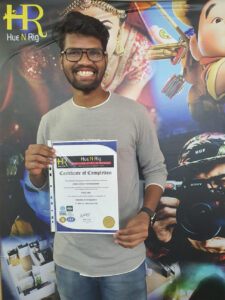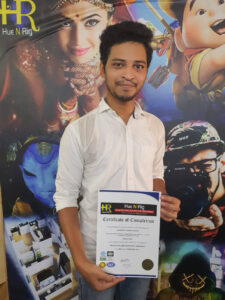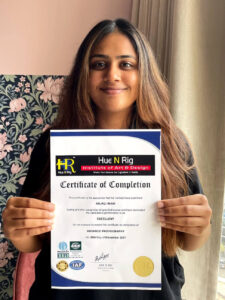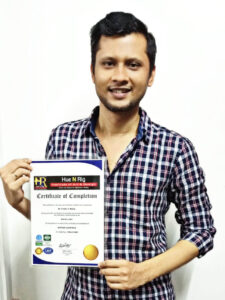 Frequently Asked Questions - FAQs
This is totally an offline classroom training. 
Offline classroom training gives u an extra facility to communicate and interact with faculty on the spot if there is some doubt. Also there is always a plus point of classroom training over recorded lectures
Decide Soon?
Looks like you don't have much time. But at the same time, it shouldn't take you so much time to take the best decision of your lifetime!
Want To Know More About Our
Interior Design Diploma Course?
We Are Ready To


explore your creative, build your career, boost your brand, upscale your business

h3>