Diploma In Commercial Photography Course
Get Corporate And Business Clients by enrolling our course
Trusted By 1500+ Students
Special Discount
With FREE 8 Bonus Stuffs
Get it today to Unlock Bonuses Free Stuffs.
What will you learn from this course?
Key features of the course
Why Learn Diploma In Commercial Photography Course From Hue N Rig?
Unlock Bonuses FREE Stuffs On Enrollment
Benefits after completing Diploma In Commercial Photography Course Training from Hue N Rig Institute Of Art & Design
100% creative growth
Developing vision with creative perspective.
Clearing job interview
No more wasting time or money seeking other courses.
Growing your own business.
Building your own start-up company
You can be a professional freelancer
Diploma In Commercial Photography Course Training Software
Software

Training

Certification
Adobe Lightroom
Adobe Photoshop
Hue N Rig Institute of Art & Design provides classroom training For Master Graphic Designing Course
Offline Classroom Practical Training 
Where students will be provided training by faculty inside a classroom.
It will be a face to face direct training.
Training will be conducted in batch.
You can directly interact with faculty in classroom for any queries.
Lecture types covered for this course will be in
Software Technical 
Theoretical
Practical
Conceptual 
Project Based Training
A professional certificated will be provided to the students after successfully completion of the course.
Students should submit there projects and get it approved from the faculty.
Within 15 Days of submission of project, institute will issue the certificate under name of student enrolled
Diploma In Commercial Photography Course Module
(20 Modules)
Download Our

FREE APP

Now

h3>
Module 1 to 3
Introduction to photography
History of photography
Types of photography
Camera operation
Different ways to hold camera
Focusing
Compositing
Framing
Angles
White balance presets
Module 4 to 6
Manual focusing
Why auto focus fails
Shutter release modes
Focus types
Exposure focusing
Exposure triangle
Priority modes
Exposure compensation
Mod
Fx vs dx camera (why dx is import)
Re-compositing
Custom white balance details
Depth of field
Image formats
Sensor
Introduction to flash light
Importance of external light
Introduction to prime lens
Bokeh photography
Module 7 to 10
Introduction to adobe lightroom
Catalog creation
Importing images
Sequence management
Custom interface
Basic tools
Editing raw images
Filters
Correcting perspective
Adding vignette
Batch rename
Synchronization properties
Edit and apply watermark
Exporting and sharing photos
Module 11 to 13
Introduction to Photoshop
Import & export images
Selection family
Background changing
Image retouching
Skin enhancement
Color corrections
Image manipulation
Album designing
Image resolutions and resizing
Special effects
Module 14 to 17
Introduction to histogram
Rules for compositing details
Types of lens
Dx vs Fx
Sweet spot
Metering modes
Focal length details
Lens vs distortion (distort product avoid)
Filters for lens
Mastering lens
Concepts of lighting
Theory of light
Concepts of colors
Light vs power vs distance relation
Types of lights
Shapes of light
Different lighting setups
Off camera flash
Flash remoter trigger
Continuous light vs flash light
Light modifiers
Module 18 to 20
Introduction to light box
Lighting setup for product photography
Product management
Product preparation
Clearing unwanted objects
Cleaning objects
Product photography
Creative product photo shoot
Food photography
Transparent object photography
Jewelry photography
Fruits photography
Sweets photography
Portfolio creation & submission
My name is Sandeep Rahate and I am an interior designing student. My overall experience with my designer course is very satisfying. My "Autocad" and "Photoshop" classes were very good. Online and offline classes experience was also very good. They give attension to each and every student. I am satisfised by the way the teach
Jayesh Unnithan
2020-06-25
I had a great time doing graphic designing course and everyone involved in the Hue&Rig institute has made it a great experience. I look forward doing more courses with you guys in the future and have been recommending you to everyone I know. Thank you
I am a student of hue n rig. I have just completed one month in online classes.all of you are also getting our support in online classes.thanks for your support sir n miss
Hue n rigs have great teachers and guides who are available 24 x7 for any help. I have learnt a great deal from the graphic design ing course, and although in lockdown have succeeded in conducting lectures. It was very homely too n the workspace is ideal. Thanks to the sirs and teachers to taught with dedication n respect.All the best. May you grow to greater heights
V Pratiek Johnson
2020-06-25
I Mr.Pratiek Veluthamannunkal Student of Hue & Rig like to mention online classes are very good during lockdown period as we do not have to carry sanitzer & mask during our travel for lectures at the same time classroom lectures excellent because during lectures our doubts can be cleared then and there. No Doubt our faculty take lectures online and in class the way the student understand . But we miss our faculty as we can't communicate personally. (But on Phone they are available to clear our doubts)
I am a student of Hue N Rig. I have just completed one month.I am having a good experience with them, the trainers are helpful, supportive and friendly,It help us to create new things.thanks for your support.
Enroll now and get certified for Best Diploma In Commercial Photography Course in Mumbai by Hue N Rig Institute Of Art & Design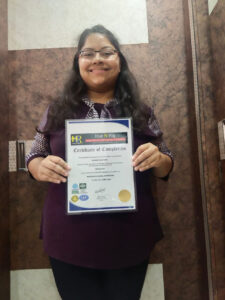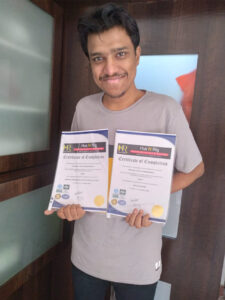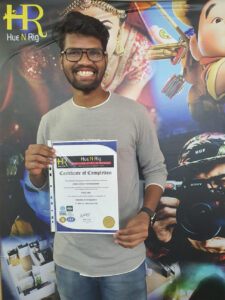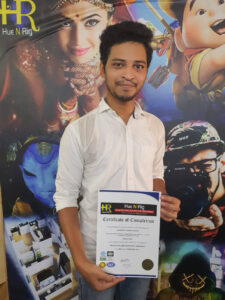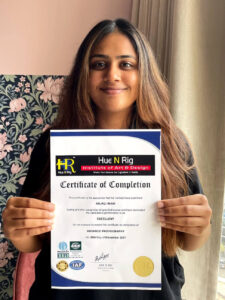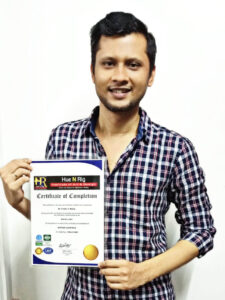 Frequently Asked Questions - FAQs
This is totally an offline classroom training. 
Offline classroom training gives u an extra facility to communicate and interact with faculty on the spot if there is some doubt. Also there is always a plus point of classroom training over recorded lectures
Decide Soon?
Looks like you don't have much time. But at the same time, it shouldn't take you so much time to take the best decision of your lifetime!
Want To Know More About Our
Diploma In Commercial Photography Course?
We Are Ready To


explore your creative, build your career, boost your brand, upscale your business

h3>